21 JUNE 2016:
Energy Transition After Paris: Can renewables spell the decline of fossil fuels regardless of climate goals?
In partnership with Bloomberg New Energy Finance, CCF organised an informal guest presentation by Richard Chatterton, Head of Global Carbon Risk at Bloomberg New Energy Finance (bio below). The presentation, summarised the findings of BNEF's recently released 2016 New Energy Outlook carbon and fossil fuel forecast.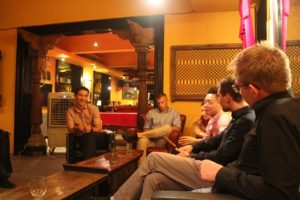 ---
27 April 2016:
China's national emission trading scheme and the European perspective – what to expect from 2017?
In collaboration with ICF International and Beijing Energy Network, CCF held an event as part of the European Union (EU) – China ETS Project, which was initiated in 2014 to support the design and implementation of greenhouse gas emissions trading in China. ICF International is leading the International Technical Assistance Team that is assisting China.
The panel consisted of distinguished experts on emissions trading schemes from Europe and China: Ms Mary Veronica Tovsak Pleterski, Director for European and International Carbon Markets, DG Clima, European Commission; Mr Renato Roldao, Consulting Director – Climate Change, ICF International; and Mr Qian Guoqiang, Strategy Director, Sinocarbon.
The audience gained insights on the latest progress of EU-China collaboration on ETS, including design and capacity building work. The panel discussion covered the key issues around ETS design both in the EU and China, including allocation mechanisms, benchmark-setting, price management and MRV.
A full event report will follow shortly.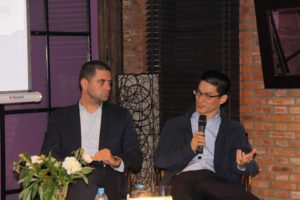 ---
April 2016:
CCF Insights: China's coal power stranded assets challenge
Please click here to find the latest CCF Insights research note. The note focuses on the emerging threat of stranded assets in the coal power sector. The note finds that due to changed market conditions, coal power utilities may face the threat of asset write-downs, and potentially asset stranding, due to three key factors: displacement by renewable energy sources, falling utilisation rates, and lower than expected demand for electricity. The note provides perspectives from experts and stakeholders in the CCF network on how these challenges could be addressed both by government and the financial sector.
---
1 March 2016:
Frontline Perspectives from the Paris COP
On the evening of Tuesday, 1st March, in partnership with the Embassy of Canada in China, China Carbon Forum held an exclusive high-level event, Frontline Perspectives from the Paris COP.
The panel discussion was moderated by Mr. Guy Saint-Jacques, the Canadian Ambassador to China, and featured Mr. Su Wei, China's Chief Negotiator for Climate Change, and Director General of Climate Change Department, National Development and Reform Commission, and Ms. Louise Métivier, Canada's Chief Negotiator for Climate Change and Assistant Deputy Minister, International Affairs Branch, Environment and Climate Change Canada.
Both speakers shared their insights on the Paris COP and the implications of the Paris Agreement, after which they answered questions from the invited guests.