On April 24th, 2018, the China Carbon Forum together with the Commonwealth Scientific and Industrial Research Organisation (CSIRO), co-organised an event titled 'Advancing Greenhouse Gas Emissions Estimations and Reporting in China and the World'.
The event featured welcome remarks by Ms Jan Adams, Australian Ambassador to China and Mr Xu Huaqing, Director of the National Center for Climate Change Strategy and International Cooperation, followed by a keynote address from Dr Helen Cleugh, Research Director of the Climate Science Centre at CSIRO.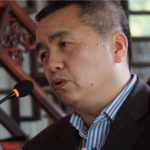 Mr Xu and Dr Cleugh then joined a distinguished expert panel to share insights on the challenges and opportunities in applying 'top down' approaches to improve GHG estimation and reporting in China and internationally, including Dr Yao Bo, Chief Scientist for Greenhouse Gas Measurement at the Chinese Meteorological Association and Mr Knut Alfsen, Special Advisor to CCICED and a Senior Researcher at CICERO. The panel was moderated by Mr Dimitri de Boer, Vice Chairman of China Carbon Forum.
For a record of the discussion, download here.